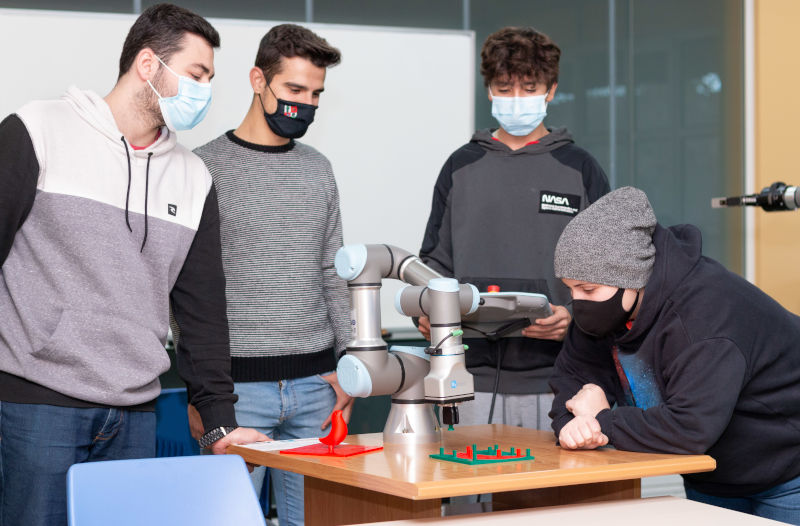 In March 2021 we finished the first pilot of the INCOBOTICS project. A first pilot that has helped us to test and validate the materials generated and to receive feedback from the real protagonists of this project: THE STUDENTS.
This first pilot started at the beginning of January 2021, on the 14th to be more precise. A group of nine students, with no previous experience in collaborative robotics, began to familiarise themselves with this technology during their stay at Politeknika Ikastegia Txorierri and were able to make use of the three collaborative robots from the Universal Robots brand that we have at our disposal. They went through the learning process using the materials generated, as well as the help of technical seminars that helped them to carry out the different challenges set autonomously.
The students were divided into three groups and each of the groups had a collaborative robot from Universal Robot to be able to program and investigate in a "free" way, thus being able to learn about the advantages and disadvantages that this type of emerging technologies can give us.
During this first pilot, the students tested the IO1 with its corresponding Programming Cobots and Artificial Vision Systems units. During the course of the training, the students had to learn the different characteristics of the cobot by carrying out different practices proposed by the teacher, as well as solving the different challenges posed, which encompassed the different knowledge acquired during the learning process.
The feedback received from the students was very positive, as they valued very positively both the materials generated and the challenges posed, as they included the contents in practical cases that they could encounter in the day-to-day work of the company.
For our part, we can also make a very positive assessment and we consider that this is only the beginning of a path that must continue, as this type of experience and assessment only reaffirm the usefulness of the materials generated.
First piloting at TXORIERRI